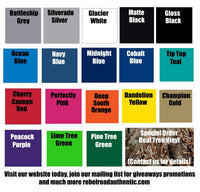 Vinyl Colors Available
Most decals available on our site will have color variations available. Please refer to this list for your color chart.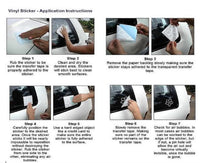 Instructions for applying vinyl decals to cars and other smooth flat surfaces.
1. Rub the Sticker to be sure the transfer tape is properly adhered to the sticker.
2. Clean and dry the desired area.
3. Remove the paper backing slowly making sure the sticker stays adhered to the transfer tape.
4. Carefully position the sticker to the desired area. Once the sticker sticks it will be nearly impossible to reposition.
5. Use a hard edged object such as a credit card to make sure the entire sticker is fully adhered to the surface.
6. Slowly remove the transfer tape. Making sure no part of the sticker remains on the transfer tape.
7. Check for air bubbles. In most cases air bubbles can be worked to the edge of the sticker. But if not a pin hole will allow the air to come out and become virtually invisible.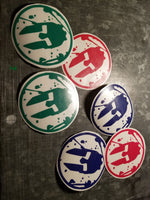 About Us
Rebel Road Authentic: Unleash Your Inner Rebel with Style!
At Rebel Road Authentic, we believe in embracing individuality and expressing yourself fearlessly. Our brand is a celebration of the rebellious spirit that resides within each of us. We offer a curated collection of products that exude a sense of authenticity, empowering you to stand out from the crowd.
We understand that true style is not about following trends but creating your own. That's why we carefully curate unique and edgy pieces that make a statement. From apparel to accessories, every item in our collection is designed to ignite your rebellious nature and showcase your distinctive flair.
Quality is our priority. We source materials that meet the highest standards, ensuring durability and comfort. Our products are crafted with meticulous attention to detail, guaranteeing that you'll feel confident and comfortable in every rebellious moment.
Rebel Road Authentic is more than just a brand; it's a community. Join our movement and connect with like-minded individuals who embrace their individuality and break free from conventions. Follow us on social media, subscribe to our newsletter, and be part of the rebellion.
So, are you ready to unleash your inner rebel? Explore our collection at Rebel Road Authentic and discover the pieces that resonate with your rebellious spirit. Express yourself authentically, without boundaries. Rebel Road Authentic: where rebellion meets style.
Decals:
Our high quality long life vinyl decals with application tape make it easy for application. Measurement of the decal at its widest point (unless otherwise specified). 
This sign grade vinyl decal will stick directly to doors, windows, bumpers and walls. Decal has no background.
Self adhesive
Will not harm your paint or natural finish
Water proof and stain resistant
Indoor life of over 8 years
Outdoor life of over 5 years
UV protected
Can be used for other projects other than automotive
Super easy to use
Low cost compared to a paint job!
Flags:
Our custom flags are available in various sizes though our 3ft x 5ft are by far the most popular for displaying.
Double sided or single sided with reverse image on opposite side are made from a polyester blend and also made right here in our shop in the USA.
Custom Apparel:
Designed especially for you or you can choose from our selection of Novelty, Biker, Family apparel, any event that you can dream.
Please email us for a free quote, if you do not have the design our highly talented graphic artist will dream it up with a little communication satisfaction is 100% guaranteed. 
Rebel Road Authentic
Official Merchandise provider for musical acts such as Moonshine Bandits, Demun Jones, Memorial Parasite, Dream Scenes and SYB Krew and many more.