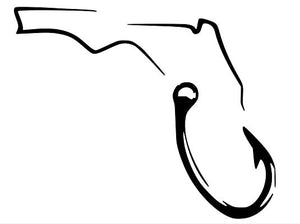 🌴🎣 Rebel Road Authentics - Hooked on Florida Fishing Vinyl Decals 🎣🌴

Are you a passionate angler in the Sunshine State? Show off your love for Florida fishing with Rebel Road Authentics' high-quality vinyl decals! Our decals are perfect for your vehicle, boat, tackle box, or any smooth surface. Choose from multiple sizes and colors to suit your style and make a statement wherever you go.

Why choose Rebel Road Authentics?

✅ Superior Quality: Our decals are crafted with meticulous attention to detail, ensuring durability and longevity. Made from premium vinyl, they can withstand the elements and maintain their vibrant colors, even under harsh Florida sun and saltwater conditions.

✅ Unique Designs: Each decal features an exclusive design that showcases your passion for fishing in the great state of Florida. From marlins and sailfish to snooks and redfish, we have a wide range of captivating designs that will turn heads and spark conversations.

✅ Easy Application: Applying our decals is a breeze! With a simple peel-and-stick process, you can transform your vehicle or gear in minutes. The decals adhere securely, yet can be removed without leaving any residue when you're ready for a change.

✅ Versatile Sizing Options: We understand that one size doesn't fit all. That's why we offer our decals in various sizes, ranging from small accents to large statements. Whether you want a subtle touch or a bold display, we have the perfect size to suit your needs.

✅ Vibrant Color Selection: Express yourself with our wide array of color options. From classic black and white to eye-catching blues, greens, and reds, our decals will complement any style or vehicle color, making them a versatile choice for all fishing enthusiasts.

🔍 Don't miss out on the chance to increase your visibility and connect with fellow anglers. Our decals are optimized, ensuring that you'll stand out among the Florida fishing community.

🛒 Visit our website today and browse our extensive collection of Rebel Road Authentics decals. Get hooked on Florida fishing with our top-notch vinyl decals that combine quality, style, and passion. Order now and let your love for fishing shine wherever you venture in the Sunshine State!