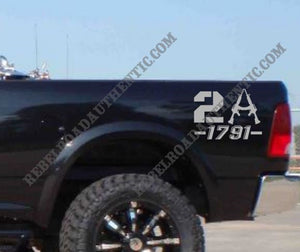 Available in multiple colors and sizes.
American Patriotic Vinyl Decals, our forefathers introduced the 2nd amendment for you and I to have our god given right to bear arms.
Show your pride in the 2nd Amendment with this 1791 vinyl decal. It comes in multiple colors and sizes so you can customize the perfect look for your home or vehicle. With this decal, you're proudly displaying a symbol of patriotism and support for the 2nd Amendment. with your decal from rebelroadauthentic.com.
Select your size and color today.

Measurement of the decal is at it's widest or tallest point whichever is greater, decal has no background and will attach to any smooth flat surface.