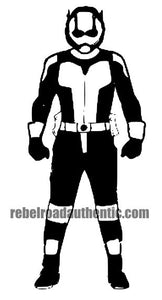 Introducing our tiny yet mighty creation: Custom Vinyl Decals featuring the incredible character, Ant-Man! 🐜👨‍🔬
Unleash your inner superhero with our custom vinyl decals inspired by Ant-Man. Whether you want to showcase your love for this brilliant and size-shifting hero on your car, personalize your laptop, or add a touch of adventure to your living space, our decals are the perfect choice.
Available in multiple sizes and a range of vibrant colors, our custom decals allow you to design a decal that captures the essence of Ant-Man's heroic persona. Crafted with high-quality vinyl, these decals are built to endure, ensuring that Ant-Man's presence remains vivid and captivating for years to come.
Embrace your own scientific curiosity and showcase your love for Ant-Man with a custom vinyl decal. It's a fantastic gift for Marvel fans or a symbol of your own ability to overcome any obstacle, radiating a sense of determination and ingenuity wherever it's placed.
Don't miss this opportunity to celebrate the awe-inspiring abilities of Ant-Man. Order your custom vinyl decal today and let his legendary legacy inspire greatness in your surroundings! 🐜👨‍🔬🌟