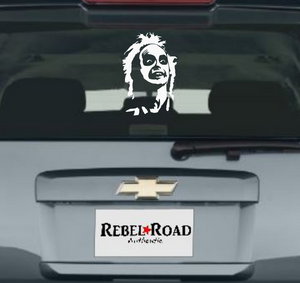 Beetlejuice custom decal
🎩👻 Unleash the Quirky Charm of Beetlejuice with Custom Decals! Available in Multiple Sizes and Colors👻🎩
Step into the eccentric world of Beetlejuice and express your love for the mischievous ghost with our exclusive Beetlejuice custom decals,
📏 Choose Your Size: Whether you want a subtle and discreet decal or a larger-than-life statement piece, we offer multiple sizes to suit your preferences. From compact designs for laptops and windows to larger sizes for cars and walls, find the perfect fit for your style.
🌈 Vibrant Colors: Our Beetlejuice decals come in a wide range of vibrant colors, allowing you to capture the whimsical spirit of the movie. Choose from an array of shades to match your personal taste and add a splash of Beetlejuice's unique flair to your surroundings.
💫 High-Quality Design: Crafted with attention to detail, our custom decals beautifully depict the iconic characters and motifs from Beetlejuice. Each decal is made with premium-quality materials, ensuring durability and long-lasting enjoyment.
⚡️ Easy Application: Applying our decals is a breeze! With a user-friendly design, you can effortlessly apply them to any smooth surface. Simply follow the online instructions, and you'll have your Beetlejuice decal ready to make a statement in no time.
🎁 Perfect Gift: Searching for a one-of-a-kind gift for a Beetlejuice fan? Look no further! Our Beetlejuice custom decals make a delightful and memorable present. Surprise your loved ones with a unique homage to the beloved film that they can proudly display.
🎬 Embrace the Beetlejuice Magic! 🎬
Let your love for Beetlejuice shine with our custom decals, Visit our website today to explore the variety of sizes and colors, and order your very own Beetlejuice decal to add a touch of whimsy to your life.
👉 Limited stock available! Don't miss out on the chance to showcase your Beetlejuice fandom. Order your Beetlejuice decal now and let the quirky charm of Beetlejuice invade your world! 👈