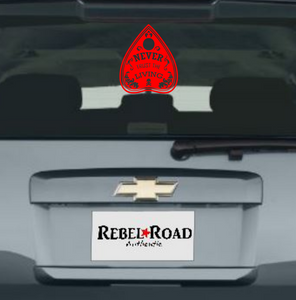 Beetlejuice Never trust the living oracle custom decal
🎩👻 Unleash Your Beetlejuice Spirit with Custom Decals! Available in Multiple Sizes and Colors 👻🎩
Step into the whimsical world of Beetlejuice and showcase your love for the iconic film with our exclusive Beetlejuice custom decals, now available.
📏 Choose Your Size: Whether you want a small and subtle decal or a large and eye-catching statement piece, we offer multiple sizes to suit your preferences. From compact designs for laptops and windows to larger decals for cars and walls, find the perfect size to flaunt your Beetlejuice spirit.
🌈 Vibrant Colors: Our Beetlejuice decals come in a wide range of vibrant colors, allowing you to capture the essence of the film's unique style. Choose from an array of hues to match your personal taste and create a visually striking tribute to Beetlejuice's iconic imagery.
🎭 Iconic Designs: Our custom decals beautifully depict the beloved characters and memorable motifs from Beetlejuice. From the mischievous Beetlejuice himself to the spooky sandworms, our decals capture the essence of the film's quirky charm, ensuring you stand out in style.
⚡️ Easy Application: Applying our decals is a breeze! With a user-friendly design, you can effortlessly apply them to any clean and smooth surface. Follow the online instructions, and you'll have your Beetlejuice decal proudly displayed in no time.
🎁 Perfect Gift: Looking for a unique and delightful gift for a Beetlejuice enthusiast? Look no further! Our Beetlejuice custom decals make an ideal choice. Surprise your loved ones with a fun and nostalgic present that will bring a smile to their face.
🎬 Embrace the Beetlejuice Magic! 🎬
Let your Beetlejuice fandom shine with our custom decals, Visit our website now to explore the variety of sizes and colors, and order your very own Beetlejuice decal to add a touch of whimsy and nostalgia to your life.
👉 Limited stock available! Don't miss out on this opportunity to showcase your Beetlejuice spirit. Order your Beetlejuice decal today and let the magic of Beetlejuice come to life! 👈