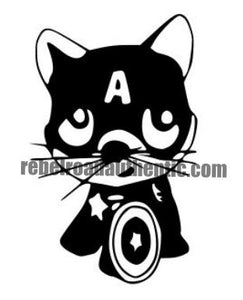 Introducing our patriotic and adorable creation: Custom Vinyl Decals featuring the lovable character, Captain America Kitty! 🐾🇺🇸
Unleash your feline heroism with our custom vinyl decals inspired by Captain America Kitty. Whether you want to showcase your love for this courageous and cute superhero on your car, personalize your laptop, or add a touch of whimsy to your living space, our decals are the perfect choice.
Available in multiple sizes and a range of vibrant colors, our custom decals allow you to design a decal that captures Captain America Kitty's irresistible charm. Crafted with high-quality vinyl, these decals are built to withstand any adventure, ensuring that Captain America Kitty's patriotic spirit remains vivid and captivating for years to come.
Embrace your own superheroic nature and showcase your love for Captain America Kitty with a custom vinyl decal. It's a fantastic gift for Marvel fans or a symbol of your own bravery and love for our country, radiating a sense of joy and admiration wherever it's placed.
Don't miss this opportunity to celebrate the cuteness and valor of Captain America Kitty. Order your custom vinyl decal today and let this adorable superhero bring a touch of Americana to your surroundings! 🐾🇺🇸🌟