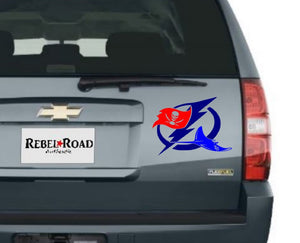 Champa Bay Sports Multicolor Vinyl Decal

Tri color decal Deep Blue Sea/ Cherry Cannon Red/ Ocean Blue

If you need vehicle window lettering, or cheap or inexpensive vinyl stickers but demand premium vinyl decals, our high quality stickers made with only premium quality long life vinyl or if you are looking for custom truck decals would you like to design your own race car decal.

We work with you to create custom vinyl graphics for motorcycles, boat registration lettering, vinyl decal labels, custom vinyl lettering for cars. With free shipping options available you no longer need to Search online for, vinyl sticker places near me, truck graphics near me, car body decals near me, custom vinyl decals for cars near me, custom vinyl lettering near me.


Let us create your very own custom made vinyl sticker or lettering stickers decals.