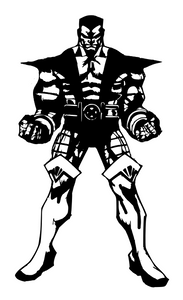 Introducing our empowering masterpiece: Custom Vinyl Decals featuring the iconic character, Collosus X-Men Character.
Unleash your inner Mutant with our custom vinyl decals inspired by Collosus. Whether you want to add a touch of strength and grace to your laptop, personalize your water bottle, or decorate your walls with a symbol of empowerment, our decals are the perfect choice.
Available in multiple sizes and a range of vibrant colors, our custom decals allow you to create a design that captures Wonder Woman's timeless essence. Crafted with top-quality vinyl, these decals are built to last, ensuring that Collosus' inspiring presence remains vivid and captivating for years to come.
Embrace your own hero's journey and showcase your love for Collosus with a custom vinyl decal. It's an extraordinary gift for X-Men fans or a powerful statement for yourself, radiating resilience and determination wherever you go.
Don't miss this opportunity to embrace your inner warrior. Order your custom vinyl decal today and let Collosus's strength and beauty inspire you on your own heroic adventures! 🌟💪
Exceptional!
Top of the line customer service, great designs, quick custom design turn around time, fast shipping, AND a quality product! No need to shop elsewhere, this is your new one stop decal shop!
They made us a custom character that we had been looking for for over 2 years. My husband was so excited to have it for his car! Thank you guys for a job well done!