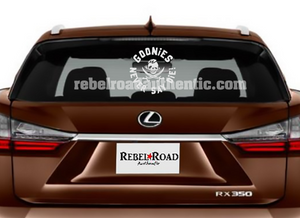 #GooniesNeverSayDie #CustomDecal #RebelRoadAuthentic
Embrace the adventurous spirit with our Custom 'Goonies Never Say Die' Vinyl Decal, available exclusively at RebelRoadAuthentic.com. Pay homage to this timeless classic and add a touch of nostalgia to your style with these custom creations, offered in a variety of sizes and colors to perfectly match your Goonies enthusiasm.
#GooniesFans #NostalgicStyle #CustomizeYourGear #RebelRoadQuality
Personalize your world by adding the decal to your car, laptop, or any other item, and pick up the matching T-shirt to showcase your love for the Goonies.
#ExpressYourAdventure #CustomMerchandise #GooniesArt #RebelRoadCreativity
At RebelRoadAuthentic.com, we're dedicated to delivering top-quality products, and our Custom 'Goonies Never Say Die' Decal and  the matching T-shirt are no exception.
#RebelRoadAuthentic #VarietySizes #HighQualityProducts #CustomApparel
Crafted with care, these items are designed to bring a smile to your face and remind you that adventure never truly ends.
#HighQualityCraftsmanship #CustomColors #AdventureApparel #RebelRoadFlair
Explore the limitless customization options and create your very own design that captures the spirit of the Goonies.
#CustomDesigns #GooniesSpirit #UniqueColors #RebelRoadPersonalization
Join the ranks of Goonies enthusiasts worldwide and order now to showcase your affinity for never giving up. As always, most items come with free shipping.
#GooniesAffinity #CustomizeYourStyle #GooniesMerchandise #FreeShipping
Stay connected by subscribing to our channel and hitting the notification bell for the latest products and exciting releases.
#CustomMerch #GooniesLove #RebelRoadYouTube #StayUpdated
Relive the adventure with our Custom 'Goonies Never Say Die' Vinyl Decal and T-Shirt.
#AdventureStyle #CustomGooniesMerch #NostalgiaFashion #RebelRoadExperience