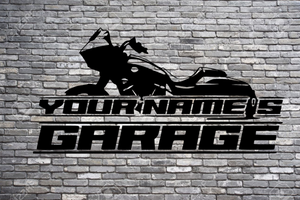 Rev up your style with our Custom Name Biker Garage Custom Vinyl Decal! Perfect for motorcycle enthusiasts who want to make a bold statement, this high-quality decal lets you personalize your ride and showcase your unique identity.
🔥 Stand Out from the Pack 🔥
With our Custom Name Biker Garage Decal, you can proudly display your name or any text of your choice on your garage wall, tool box, or any other smooth flat surface. Whether you want to showcase your own name, your club's name, or a powerful motto, our custom vinyl decal is the perfect way to make a lasting impression.
🎨 Customize Your Look 🎨
Available in multiple sizes and a wide range of colors, our Custom Name Biker Garage Decal allows you to create a design that truly matches your style. Choose from vibrant shades that catch the eye or go for a sleek, understated look that exudes sophistication. Whatever your preference, we've got the perfect color to make your decal pop.
💪 Premium Quality, Long-Lasting Durability 💪
Crafted with precision and using top-of-the-line materials, our custom vinyl decals are built to last. They are resistant to fading, scratching, and peeling, ensuring that your personalized masterpiece stays intact, no matter the weather conditions or the miles you ride. These decals are designed to withstand the test of time.
🛠️ Easy Application, Hassle-Free Removal 🛠️
Applying our Custom Name Biker Garage Decal is a breeze! The decal, won't leave behind any residue or damage any surface. Enjoy the flexibility of customization without any worries.
🌟 Order Your Custom Name Biker Garage Decal Today! 🌟
Gear up and personalize your ride with our Custom Name Biker Garage Custom Vinyl Decal. Whether you're a lone rider, part of a club, or simply want to showcase your passion for motorcycles, this decal is the perfect accessory to elevate your bike's aesthetics. Don't miss out on the chance to make a statement. Order now and ride in style!
🏍️🏍️ Custom Name Biker Garage Custom Vinyl Decal - Show Your True Colors! 🏍️🏍️