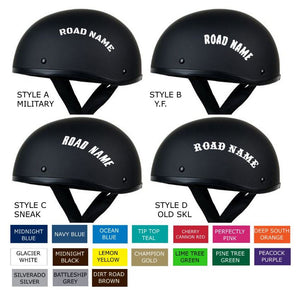 Custom Name/Road Name Motorcycle Helmet Decals
(HELMETS NOT INCLUDED)
Please select your style and color.

(special pricing for bulk purchases available)

Description:
All decals will have a slight curve as pictured.
High quality long life vinyl decal with clear application tape for easy installation. Measurement is height of letters.
This sign grade vinyl decal will stick directly to doors, windows, bumpers and walls. Decal has no background.

Below are some specs of the vinyl:

Self adhesive
Water proof and stain resistant
Indoor life of over 8 years
Outdoor life of over 5 years
UV protected
Super thin (0.2mm) to fit in most tight spots or corners
Can be used for other projects other than automotive
Super easy to use
Low cost compared to a paint job!

Instructions:

Rub the sticker to be sure the transfer tape is properly attached to the sticker.
Clean and dry the chosen area. Stickers will stick best to clean flat surfaces.
Remove the wax backing slowly making sure the sticker stays attached to the transparent transfer tape
Carefully place the sticker to the wanted area.
Rub the sticker from one side to the other, removing any air bubbles.
Use an object like a card to make sure the entire sticker is fully attached to the surface.
Slowly remove the transfer tape, making sure no part of the sticker remains on the transfer tape.
Check for air bubbles. In most cases air bubbles can be worked to the edge of the sticker.
Payment/Shipping:

PAY-PAL only.
Most orders are shipped within 24 hours, Monday-Saturday shipping!
Standard shipping in the US (no tracking is provided)
USPS First Class tracking # provided, and Priority shipping is offered for an additional cost.
Make sure your address is correct, if a decal is returned to us for an undeliverable address, buyer will pay shipping to resend the decal!
It is also very important that the shipping address provided to us via PayPal is accurate.
We are not responsible for any address information that is insufficient or incorrect.