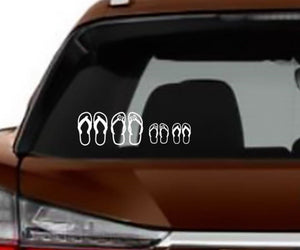 👣 Step into Fun with Rebel Road Authentic's Flip Flop Family Vinyl Decals! 👣
Looking to add a touch of beachy charm to your family's vehicles or personal items? Look no further than Rebel Road Authentic's delightful Flip Flop Family Vinyl Decals!
🌴 Our decals capture the laid-back spirit of the summer with adorable flip flop designs. Now you can showcase your love for sunny days, sandy beaches, and family adventures wherever you go.
👣 Made from high-quality vinyl, these decals are designed to stick to any smooth surface, ensuring a long-lasting and vibrant addition to your car, RV, laptop, or any other cherished item.
🎨 With multiple sizes and colors available, you have the freedom to choose the perfect match for your family's style and personality. Whether you prefer a vibrant tropical palette, a soothing pastel blend, or any other color combination that reflects your family's uniqueness, we've got you covered.
🏖️ Easy to apply and remove, our Flip Flop Family Vinyl Decals provide a hassle-free way to express your love for summer and create a sense of unity within your family. Watch as smiles light up faces and passerby admire the cheerful decals adorning your vehicles.
👨‍👩‍👧‍👦 Don't miss out on this opportunity to celebrate your family's bond and love for the beach. Visit rebelroadauthentic.com today and explore our collection of Flip Flop Family Vinyl Decals. Step into fun and spread the summer vibes!
🌞👣 Rebel Road Authentic - Where Family and Fun Come Together! 👣🌞