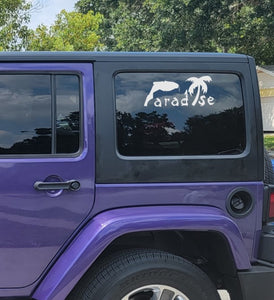 Transform your ride into a piece of Florida paradise with our custom Florida Paradise vinyl decal. Rebel Road Authentic offers you the opportunity to showcase your love for the Sunshine State in style. Crafted with care and precision, this decal adds a touch of tropical charm to your vehicle proudly offered by our custom brand Coast Life.
🌴 Key Features:
Handcrafted for Florida Enthusiasts
Easy Application
Weatherproof & Durable
Unique and Vibrant Design
Fits Most Vehicle Types
Elevate your Florida pride and personalize your ride with Rebel Road Authentic's custom Florida Paradise vinyl decal. Discover more custom car decor and accessories on our website.
Let your vehicle reflect your passion for Florida. Add a touch of paradise to your drive today! 🌴🚗 #FloridaParadise #CustomVinylDecals #RebelRoadAuthentic