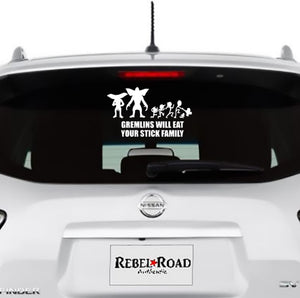 Gremlins will eat your stick family custom decal
Are you tired of those mischievous Gremlins threatening to gobble up your beloved stick family decals? We've got the perfect solution for you! Introducing the "Gremlins Will Eat Your Stick Family" custom decal, 
📏 Choose Your Size: Whether you want a subtle and discreet decal or a bold and eye-catching statement piece, we offer multiple sizes to suit your preferences. From compact designs to larger-than-life options, there's a size for every vehicle.
🌈 Endless Colors: We understand that every stick family has their own unique style. That's why our decals come in a wide range of vibrant colors, allowing you to create a custom look that stands out from the crowd. Pick the perfect shade to match your vehicle and showcase your individuality.
🎨 Premium Quality: Our decals are crafted with utmost care, using high-quality materials to ensure durability and longevity. They are weather-resistant, fade-resistant, and capable of withstanding the elements, so you can be confident that your stick family will remain intact, even in the face of mischievous Gremlins.
⚡️ Easy Application: Applying our decals is a breeze! With a user-friendly design, you can effortlessly stick them to any clean and smooth surface. You'll have your custom decal proudly displayed in no time.
🏎️ Versatile Use: These decals aren't just for cars! Show your family pride on your SUV, truck, camper, or even your laptop. The possibilities are endless. Take your stick family with you wherever you go and let everyone know that you're prepared to face any Gremlin challenge that comes your way.
🛡️🚫 Gremlin-Proof Your Stick Family Today! 🚫🛡️
Don't let those pesky Gremlins ruin the fun! Protect your stick family and showcase your personality with our "Gremlins Will Eat Your Stick Family" custom decal. browse our selection of sizes and colors and place your order. Be the envy of your neighborhood and drive with confidence!
👉 Hurry, limited stock available! Order now and stay one step ahead of those Gremlins! 👈