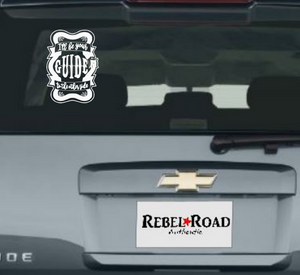 Guide to the afterlife Beetlejuice custom decal
👻📖 Unlock the Secrets of the Afterlife with the Guide to the Afterlife Beetlejuice Decal! Available in Multiple Sizes and Colors 📖👻
Are you ready to venture into the supernatural realm? Dive deep into the mysteries of the afterlife with our exclusive "Guide to the Afterlife" Beetlejuice custom decal, now available!
📏 Choose Your Size: Whether you want a small decal to adorn your laptop or a larger one to make a bold statement on your car, we offer multiple sizes to suit your needs. From subtle whispers to attention-grabbing displays, find the perfect size for your journey.
🌈 Vibrant Colors: Our Beetlejuice decals come in a range of vibrant colors, allowing you to capture the enchanting essence of the afterlife. Choose from an array of shades to match your personal style and create a visually striking tribute to Beetlejuice's unique world.
📖 Unlock the Afterlife: Immerse yourself in the realm of the undead with our meticulously designed "Guide to the Afterlife" custom decal. It beautifully depicts the iconic handbook, offering a window into the supernatural knowledge that awaits those who dare to explore.
⚡️ Easy Application: Applying our decals is a breeze! With a user-friendly design, you can effortlessly adhere them to any smooth surface. Follow the online instructions, and you'll have your very own Guide to the Afterlife decal guiding your way in no time.
🎁 Perfect Gift: Looking for a distinctive and memorable gift for a Beetlejuice enthusiast? Look no further! Our Guide to the Afterlife custom decal is the ideal choice. Surprise your loved ones with this captivating tribute to the beloved film and its mysterious universe.
🎬 Embrace the Beetlejuice Magic! 🎬
Embark on an otherworldly adventure with our Guide to the Afterlife Beetlejuice custom decal, Visit our website now to explore the range of sizes and colors and bring the supernatural into your everyday life.
👉 Limited stock available! Don't miss out on this opportunity to unlock the secrets of the afterlife. Order your Guide to the Afterlife decal today and let Beetlejuice be your guide to the unknown! 👈