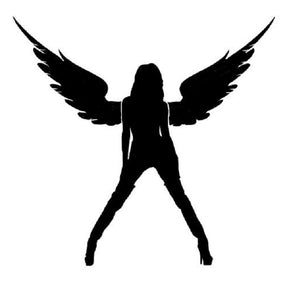 🎶 Introducing the Heavenly Rocking Angel Vinyl Decal! 🕊️
Unleash the power of divine elegance with our exquisite Angel vinyl decal, now available at rebelroadauthentic.com! This celestial masterpiece is designed to add a touch of celestial grace to your surroundings, enchanting all who lay their eyes upon it.
🌟 Features: ✨ Multiple Sizes: Choose from a range of sizes to suit your preference and space, whether you desire a delicate cherub or a majestic celestial guardian. ✨ Vibrant Colors: Our Angel vinyl decal comes in a kaleidoscope of captivating colors, allowing you to select the perfect hue that resonates with your personal style and aura. ✨ Premium Quality: Crafted with utmost care, our decal boasts exceptional durability, ensuring it stays celestial and pristine for years to come. ✨ Easy Application: Applying our Angel vinyl decal is a breeze, thanks to its hassle-free design. No special tools or expertise required!
🌈 Versatile and Enchanting: Transform any surface into a heavenly sanctuary with the Angel vinyl decal. Ideal for decorating your bedroom, living room, office, or even your vehicle, this captivating artwork is a timeless symbol of divine protection and serenity. It also makes a thoughtful gift for loved ones who appreciate the beauty of angelic aesthetics.
💫 Unleash Your Imagination: Let your creativity soar as you personalize your space with this ethereal masterpiece. Place it on your laptop, mirror, walls, or any smooth surface that calls for a touch of celestial magic. With its easy-to-remove adhesive, you can change its location whenever inspiration strikes, allowing your surroundings to continually evolve with your visions.
🛒 Visit rebelroadauthentic.com Today! Don't miss out on bringing an angelic presence into your life. Visit rebelroadauthentic.com now to explore our collection of Angel vinyl decals, available in various sizes and enchanting colors. Elevate your space and embrace the celestial beauty that lies within you. Order your Angel vinyl decal today and experience the blissful charm it bestows.
🌟 Let your imagination take flight with the Angel vinyl decal from Rebel Road Authentic! 🌟