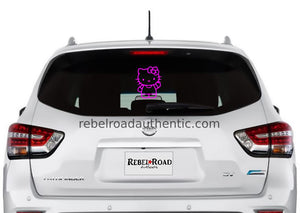 Hello Kitty Wave Vinyl Decal
Are you a Marvel or DC Comics nut, Rebel Road Authentic has you deepest desire from Arkham Asylum to Zena Warrior Princess or perhaps you are a Star Wars or Star Trek enthusiast show your inner nerd to the world around you with our high quality long life vinyl decal with application tape for easy installation. Measurement is of the decal at its widest or tallest point which ever is greater.
This sign grade vinyl decal will stick directly to doors, windows, bumpers and walls. Decal has no background.