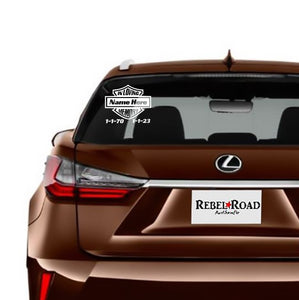 Introducing the In Loving Memory Biker Vinyl Decal - the perfect way to pay tribute to a beloved biker who has passed on. This high-quality vinyl decal features a stunning design that showcases your loved one's passion for the open road.
Crafted from durable, weather-resistant vinyl, this decal is designed to withstand the elements and last for years to come. It's easy to apply and remove, so you can customize your bike or vehicle in minutes.
Not only does this decal provide a touching tribute to your loved one, but it also serves as a powerful reminder of their spirit and love for adventure. It's a great way to honor their memory and keep their legacy alive.
Order your In Loving Memory Biker Vinyl Decal today and show your love and respect for the biker who meant so much to you. It's a meaningful way to express your grief and keep the memories of your loved one close to your heart.
Please input dates and name you would like for the decal to read.