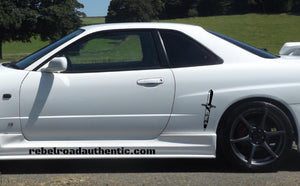 🔪 Unleash the Thrills with Rebel Road Authentic's Horror Movie (Knife) Dagger Vinyl Decals! 🔪
Are you a die-hard horror movie fan seeking to add a touch of macabre to your surroundings? Look no further than Rebel Road Authentic's chilling Horror Movie (Knife) Dagger Vinyl Decals!
🎬 Our decals pay homage to the iconic weapon of choice for the most spine-chilling characters ever to grace the silver screen. Now you can bring their sinister allure right into your own domain.
🔪 Made from high-quality vinyl, these decals are designed to stick to any smooth surface, ensuring a long-lasting and visually striking addition to your walls, laptops, cars, or any other personal items.
💀 With multiple sizes and colors available, you have the freedom to choose the perfect match for your individual style and preferences. Whether you prefer a bold and striking red, a sleek and menacing black, or any other color that sends shivers down your spine, we've got you covered.
🌟 Easy to apply and remove, our Horror Movie (Knife) Dagger Vinyl Decals provide a hassle-free way to transform your space into a horror lover's haven. Showcase your passion for the genre and become the envy of fellow fans with these eye-catching and attention-grabbing decals.
🔥 Don't miss out on this opportunity to showcase your love for horror movies in a truly unique and chilling way. Visit rebelroadauthentic.com today and browse our collection of Horror Movie (Knife) Dagger Vinyl Decals. Elevate your decor and embrace the darkness!
💀🔪 Rebel Road Authentic - Where Horror Lovers Find Their Sinister Style! 🔪💀