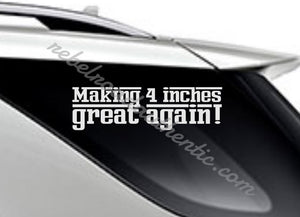 High quality long life indoor outdoor vinyl Decal with easy application tape for applying to almost any surface.  
Our high quality long life vinyl decals with application tape make it easy for application. Measurement of the decal at its widest point (unless otherwise specified). 
This sign grade vinyl decal will stick directly to doors, windows, bumpers and walls. Decal has no background.
Self adhesive
Will not harm your paint or natural finish
Water proof and stain resistant
Indoor life of over 8 years
Outdoor life of over 5 years
UV protected
Can be used for other projects other than automotive
Super easy to use
Low cost compared to a paint job!