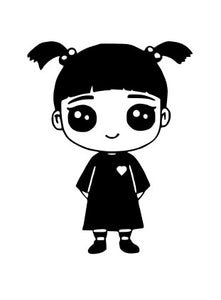 Introducing our enchanting new product: Custom Vinyl Decals featuring the adorable character, Boo, from Monsters Inc.! 🎈
Experience the whimsical world of Monsters Inc. right at your fingertips with our custom vinyl decals. Whether you want to add a touch of Boo's contagious energy to your laptop, personalize your phone case, or bring some magic to your bedroom walls, our decals are the perfect choice.
With a variety of sizes and a wide spectrum of colors available, you have the creative freedom to design a decal that matches your unique style. Crafted with high-quality vinyl, our decals are built to last, ensuring that Boo's delightful presence will endure for years to come.
Capture the essence of Boo's mischievous spirit and share your love for Monsters Inc. with a custom vinyl decal. It's a wonderful gift for fellow fans or a delightful treat for yourself that will bring joy and laughter wherever you go.
Don't miss this opportunity to sprinkle a little bit of Boo's magic into your life. Order your custom vinyl decal today and let Boo's infectious enthusiasm light up your world! ✨