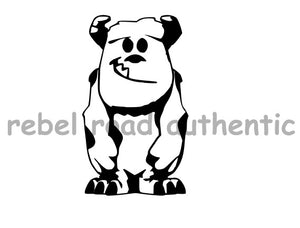 Introducing our newest product: Custom Vinyl Decals featuring everyone's favorite character, Monsters Inc.'s Sulley! 🎉
Transform your space with the vibrant and playful presence of Sulley. Whether you're looking to personalize your laptop, add some flair to your car, or decorate your bedroom walls, our custom vinyl decals are the perfect solution.
With multiple sizes and a wide range of colors to choose from, you can create a decal that matches your unique style and fits seamlessly into any environment. Our high-quality vinyl ensures durability, so your decal will stay looking fresh and vivid for years to come.
Let your imagination run wild and show off your love for Monsters Inc. with a custom Sulley decal. Perfect as a gift for a fellow fan or a delightful treat for yourself, these decals are guaranteed to bring joy and smiles wherever they go.
Don't miss out on this opportunity to bring a touch of Sulley's charm into your life. Order your custom vinyl decal today and let the magic of Monsters Inc. brighten up your world! 🌟