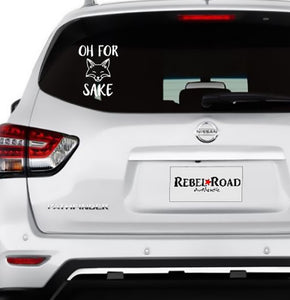 Get a Laugh with Funny "For Fox Sake" Custom Vinyl Decals!
Looking for a hilarious way to add some personality to your belongings? Look no further! Introducing our funny "For Fox Sake" custom vinyl decals. Available in multiple sizes and colors, these decals are guaranteed to bring a smile to your face.
Whether you want to customize your laptop, water bottle, car window, or any other surface, our high-quality vinyl decals will do the trick. Choose from a range of sizes to fit perfectly and select the color that matches your style and sense of humor.
Our decals are made to last, with durability that withstands everyday use. Easy application ensures hassle-free fun, making it simple to showcase your witty side.
But wait, there's more! Don't forget to subscribe to our YouTube channel and join our vibrant community. Get ready for a dose of humor, exclusive content, and exciting updates.
Visit our business online and explore a world of creativity and laughter. Order your funny "For Fox Sake" custom vinyl decal today and let the laughter begin. Subscribe to our YouTube channel and shop with us for an unforgettable experience. It's time to have a foxing good time!
Join our YouTube community now!
Self adhesive
Will not harm your paint or natural finish
Water proof and stain resistant
Indoor life of over 8 years
Outdoor life of over 5 years
UV protected
Can be used for other projects other than automotive
Super easy to use
Low cost compared to a paint job!