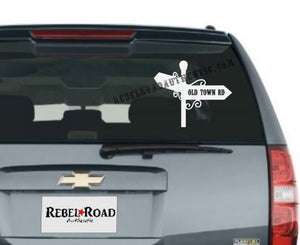 Old Town Rd Vinyl Decal
Not like the city because it's quiet, not like suburbia because you don't feel like you're going to explode due to boredom and utter lack of greenery (lawns not withstanding)
A generally quiet region of the world many people choose to live in due to it's tranquility and closeness with nature. Sometimes refered to as and are actually similar to "the boons" and "the bush" or "the sticks" even the Duke boys from Hazzard County had decals on the side of the General Lee!
our high quality long life vinyl decals with the application tape proves to be an easy installation. Measurement is of the decal at its widest or tallest point whichever is greater.
This sign grade vinyl decal will stick directly to doors, windows, bumpers and walls. Decal has no background.