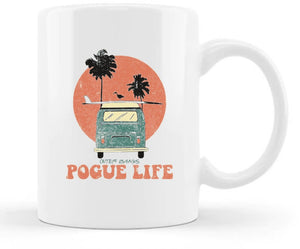 Introducing the ultimate coffee mug for Outer Banks fans - the Pogue Life Coffee Mug!
Featuring a sleek design with the iconic Outer Banks Pogue Life emblem emblazoned on both sides, this mug is perfect for sipping your morning coffee while dreaming of sun, surf, and adventure on the Outer Banks.
Crafted from high-quality ceramic material, this mug is both microwave and dishwasher safe, making it ideal for everyday use. Its generous 12-ounce capacity ensures that you can enjoy your favorite hot beverage while getting your daily dose of Pogue spirit.
Whether you're a die-hard Outer Banks fan or just love a good cup of coffee, the Pogue Life Coffee Mug is a must-have addition to your collection. So why wait? Order yours today and join the Pogue Life!