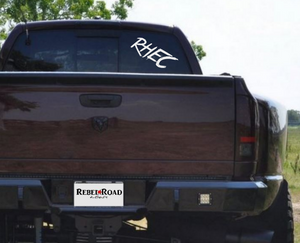 🔥 Unleash your rebel spirit with the Custom RHEC Vinyl Decal from rebel road authentic🏴‍☠️
Show your unwavering support for the RHEC movement with our exclusive Custom RHEC Vinyl Decal. At rebel road authentic, we celebrate the boldness, independence, and country lifestyle that RHEC represents. Now you can personalize your belongings and embrace the rebel within with a custom decal that reflects your RHEC pride!
✨ Personalized RHEC Style: Our Custom RHEC Vinyl Decal allows you to add a touch of personalization to your vehicle, accessories, or any smooth surface. Whether you're a country enthusiast, a rebel at heart, or simply love the RHEC way of life, our decal will make a statement. Choose from a variety of fonts, sizes, and colors to create a custom design that embodies your unique RHEC spirit.
🌟 Superior Quality, Maximum Durability: At rebel road authentic, we prioritize exceptional quality. Our Custom RHEC Vinyl Decals are crafted using premium materials, ensuring durability that withstands the test of time. With our high-quality adhesive, you can trust that your decal will stay securely in place, even during your wildest adventures.
⚡️ Easy Application: Applying our Custom RHEC Vinyl Decal is a breeze, thanks to its user-friendly design. Simply peel off the backing and effortlessly adhere it to any smooth surface. Whether you choose to personalize your vehicle, laptop, or favorite gear, our decal will enhance your RHEC style. If you ever decide to remove or change the decal, it can be done without leaving any residue behind.
🌾 Embrace the RHEC Lifestyle: The Custom RHEC Vinyl Decal is more than just an accessory—it represents your connection to the country, the rebel spirit, and the RHEC community. Show your love for freedom, individuality, and living life on your terms. Let your decal be a symbol that resonates with like-minded individuals who share your RHEC values.
🎁 Perfect for RHEC Enthusiasts: Looking for the perfect gift for a RHEC enthusiast in your life? Look no further! Our Custom RHEC Vinyl Decal makes a thoughtful gift for birthdays, holidays, or special occasions. Surprise your friends or family members with a personalized decal that showcases their RHEC pride and rebel spirit.
🛒 Order Your Custom RHEC Vinyl Decal now and proudly display your RHEC identity. Personalize your belongings, add a rebellious touch to your everyday life, and embrace the RHEC lifestyle with our Custom RHEC Vinyl Decal. Don't wait—order yours today and let your rebel spirit shine!
✨ Unleash the Rebel Within with rebel road authentic✨