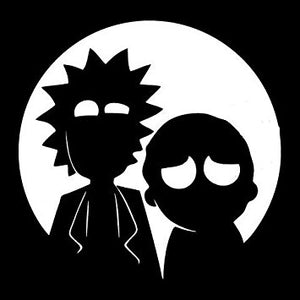 Embark on interdimensional adventures with our custom vinyl decals featuring the zany duo, Rick and Morty! 🚀🌌
Join the mad scientist Rick and his grandson Morty on their wild escapades with our custom vinyl decals. Whether you want to showcase your love for the show on your car, personalize your laptop, or add a touch of wacky humor to your living space, our decals are the perfect choice.
Available in multiple sizes and a range of vibrant colors, our custom decals allow you to design a decal that captures the essence of Rick and Morty's unique world. Crafted with high-quality vinyl, these decals are built to endure, ensuring that the designs remain vivid and eye-catching for years to come.
Immerse yourself in the absurdity and humor of Rick and Morty with a custom vinyl decal. It's a fantastic gift for fans of the show or a way to add a dose of eccentricity to your surroundings, sparking conversations and bringing smiles to everyone's faces.
Don't miss this opportunity to showcase your love for one of the most beloved animated series. Order your custom vinyl decal today and let the adventures of Rick and Morty come to life! 🚀🌌🌟