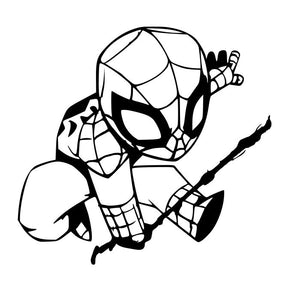 Introducing our latest marvel: Custom Vinyl Decals featuring the incredible character, Spiderboy! 🕷️👦
Step into the shoes of a young web-slinging hero with our custom vinyl decals inspired by Spiderboy. Whether you want to display your love for the friendly neighborhood superhero on your laptop, personalize your skateboard, or add some excitement to your bedroom walls, our decals are the perfect choice.
Available in a variety of sizes and a web of vibrant colors, our custom decals allow you to create a design that reflects your unique style. Crafted from premium-quality vinyl, these decals are designed to withstand the test of time, ensuring that Spiderboy's adventurous spirit remains vivid for years to come.
Embrace the power and agility of Spiderboy with a custom vinyl decal. It's a spectacular gift for Marvel fans or a thrilling addition to your own collection, radiating heroism wherever it's placed.
Don't miss your chance to swing into action. Order your custom vinyl decal today and let Spiderboy's web-slinging adventures accompany you on every exciting endeavor! 🕸️💥