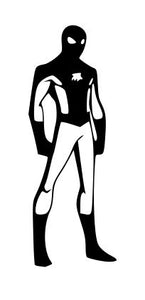 Introducing our amazing creation: Custom Vinyl Decals featuring the iconic character, Spider-Man! 🕷️🕸️
Swing into action with our custom vinyl decals inspired by Spider-Man. Whether you want to showcase your love for the friendly neighborhood hero on your car, personalize your laptop, or add a touch of web-slinging excitement to your bedroom walls, our decals are the perfect choice.
Available in multiple sizes and a web of vibrant colors, our custom decals allow you to design a decal that captures Spider-Man's dynamic essence. Crafted with high-quality vinyl, these decals are built to withstand the test of time, ensuring that Spider-Man's adventurous spirit remains vivid and captivating for years to come.
Embrace your own superheroic journey and showcase your love for Spider-Man with a custom vinyl decal. It's a fantastic gift for Marvel fans or a powerful statement for yourself, radiating bravery and heroism wherever it's placed.
Don't miss this opportunity to celebrate your inner web-slinger. Order your custom vinyl decal today and let Spider-Man's incredible agility and sense of responsibility inspire you on your own extraordinary path! 🕷️🌟