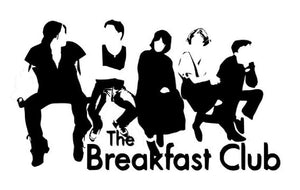 Unleash your inner rebel with our custom vinyl decals inspired by The Breakfast Club! 🥣👊📚
Relive the iconic coming-of-age film, The Breakfast Club, with our custom vinyl decals. Whether you want to showcase your love for the movie on your car, personalize your laptop, or add a touch of nostalgia to your living space, our decals are the perfect choice.
Available in multiple sizes and a range of vibrant colors, our custom decals allow you to design a decal that captures the essence of The Breakfast Club's unforgettable characters and moments. Crafted with high-quality vinyl, these decals are built to last, ensuring that the designs remain crisp and captivating for years to come.
Embrace the spirit of rebellion, friendship, and self-discovery with a custom vinyl decal inspired by The Breakfast Club. It's a fantastic gift for fans of the film or a way to express your own unique personality and love for the '80s era.
Don't miss this opportunity to show off your affinity for a true cinematic classic. Order your custom vinyl decal today and let The Breakfast Club be a part of your everyday adventures! 🥣👊📚🌟