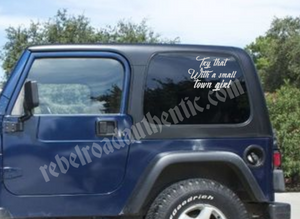 Try that with a small town girl custom decal

Looking to add a touch of small-town charm to your world? Our "Try That with a Small Town girl" custom decal is the perfect choice! Available exclusively at Rebel Road Authentic, this unique decal can be customized with various sizes and colors to suit your style.

Embrace your small-town roots and showcase your pride with this eye-catching decal. Whether you want to personalize your car, laptop, water bottle, or any other item, our custom decal offers endless possibilities to express your individuality.

At Rebel Road Authentic, we take pride in delivering high-quality products, and our "Try That with a Small Town girl" decal is no exception. Crafted with durable vinyl material and a reliable adhesive, it is designed to withstand the test of time, making it a long-lasting addition to your collection.

Join us as we celebrate the small-town spirit and explore the various customization options available. This small town boy decal is the perfect way to stand out in a crowd and share your love for the simple joys of life.

Order yours today and proudly display your small-town pride with our custom decal from Rebel Road Authentic. Subscribe to our channel, hit the notification bell, and stay updated on all our latest products and exciting releases. Let's embrace the charm of small-town living and make a statement with this fantastic custom decal!