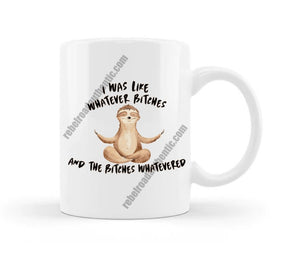 Introducing the Yoga Sloth Coffee Cup - the perfect companion for your daily coffee ritual!

This unique and adorable coffee cup features a sloth striking a yoga pose, reminding you to slow down, breathe, and take a moment for yourself. With its charming design, this cup is sure to put a smile on your face every time you use it.

Not only is the Yoga Sloth Coffee Cup cute, it's also practical. It holds up to 12 ounces of your favorite hot or cold beverage, and is made of high-quality ceramic that's both microwave and dishwasher safe. Plus, the easy-grip handle ensures that you won't accidentally drop your precious caffeine fix.

Whether you're a busy bee on-the-go, or prefer to savor your coffee at home, the Yoga Sloth Coffee Cup is the perfect way to start your day. It also makes a thoughtful gift for the yoga enthusiast or animal lover in your life.

So why settle for a boring, generic coffee cup when you can sip your beverage in style with the Yoga Sloth Coffee Cup? Get yours today and take a moment to relax and unwind with every sip!