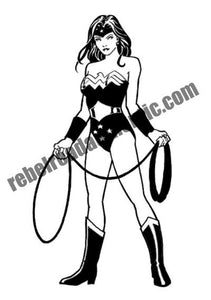 Introducing our empowering masterpiece: Custom Vinyl Decals featuring the iconic character, Wonder Woman! 🌟👩‍🎤
Unleash your inner Amazonian warrior with our custom vinyl decals inspired by Wonder Woman. Whether you want to add a touch of strength and grace to your laptop, personalize your water bottle, or decorate your walls with a symbol of empowerment, our decals are the perfect choice.
Available in multiple sizes and a range of vibrant colors, our custom decals allow you to create a design that captures Wonder Woman's timeless essence. Crafted with top-quality vinyl, these decals are built to last, ensuring that Wonder Woman's inspiring presence remains vivid and captivating for years to come.
Embrace your own hero's journey and showcase your love for Wonder Woman with a custom vinyl decal. It's an extraordinary gift for DC fans or a powerful statement for yourself, radiating resilience and determination wherever you go.
Don't miss this opportunity to embrace your inner warrior. Order your custom vinyl decal today and let Wonder Woman's strength and beauty inspire you on your own heroic adventures! 🌟💪