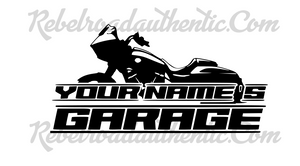 Rev up your motorcycle's style with our high-quality custom name biker garage vinyl decals! Make a bold statement and show off your love for the open road with a personalized touch. Whether you're a passionate rider, a member of a motorcycle club, or simply want to add some flair to your garage, our decals are perfect for you!
🔥 Unleash Your Individuality: 🔥 Stand out from the crowd and make your mark with a custom name decal that reflects your unique personality. Whether you want your nickname, club name, or a special message, our talented designers will bring your vision to life. Let your bike roar with pride as it showcases your one-of-a-kind style!
✨ Premium Quality, Lasting Impression: ✨ Crafted from durable, weather-resistant vinyl, our decals are made to withstand the elements. Rain or shine, they'll keep looking vibrant and sharp, ensuring your bike remains the center of attention wherever you ride. With long-lasting adhesive, our decals adhere securely to any smooth surface, ensuring a clean and professional look.
🛠️ Easy Application, No Hassle: 🛠️ Applying our custom name biker garage vinyl decal is a breeze! Each order comes with clear instructions and transfer tape, making installation quick and hassle-free. No special tools or skills required! Plus, they're easily removable without leaving any residue behind, giving you the flexibility to switch up your style whenever you want.
🎁 The Perfect Gift for Biker Enthusiasts: 🎁 Surprise the motorcycle lover in your life with a personalized gift that will leave them grinning from ear to ear. Our custom name biker garage vinyl decals make for a thoughtful and unique present for birthdays, anniversaries, or any special occasion. It's a surefire way to make their heart race with excitement!
🏍️ Ride in Style, Ride with Pride: 🏍️ Transform your bike and garage into a true biker haven with our custom name vinyl decals. Express your passion for motorcycles and make a statement that captures the essence of the open road. Embrace the thrill of the ride and let your personalized decal speak volumes about who you are as a biker.
🔥🏍️ Don't wait, start turning heads today! 🏍️🔥
Order your custom name biker garage vinyl decal now. Unleash your creativity and make your bike truly yours!